What are auction items?
Auction items are items sellers allow bidding on. This allows you to save money if there are no competing bids and keeps your shopping exciting!
You can easily filter your results to show only auction items if you click on the drop down tab on the far left. This tab will list filters you can choose from: All Listings, Buy It Now, and Auction. (to learn more about filtering your results, click here).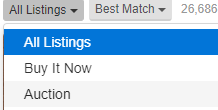 Click on the "Auction" option from the top section. Your page will refresh, showing you only items you can bid on!

Remember, you can further simply your searches by filtering your results!!

Auction items have an expiration date to them. The time left on an open auction item will be in red following the price.
Make sure your PayPal account is correctly linked to your eBay account to make bidding fast and easy!